Perio Protect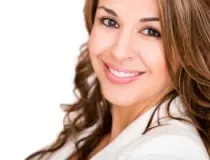 Almost half of American adults age 30 and over have some form of gum disease. Gum disease is called a "silent disease" because there are usually no symptoms until the condition is severe. People with mild gum disease may notice minor bleeding when they brush and floss, but pain or discomfort is absent. At the advanced stage, the gums start to pull away from the tooth and form pockets, causing loose teeth and sensitivity. Bleeding is also more pronounced when you clean your teeth. Eventually, the tooth falls out.
If you notice signs of periodontal disease, see your Greenville, SC dentist right away. Dr. Brown aims to eliminate gum disease with preventive care, regular checkups and advanced gum disease management. Dr. Brown is one of the few dentists in the country offering Perio Protect, an FDA-approved system that removes plaque, bacteria and toxins between teeth and above and below the gum line. Perio Protect is recommended for patients with moderate to severe periodontal disease.
---
How Perio Protect Can Help You
Perio Protect works by killing bacteria and turning tartar into a chalky mush that is easier to remove by brushing. Other advantages:
Perio Protect is a non-invasive approach to gum disease treatment.
Unlike invasive gum surgery, Perio Protect is painless and convenient. Perio Protect treatment is done in the comfort of your own home.
There are no shots, painful scraping, lengthy appointments or discomfort. Instead, you will wear custom trays (similar to mouth guards) that deliver medication straight into the gum pockets.
---
Perio Protect trays are made of soft, thin material that is super comfortable. Simply wear the trays for a few minutes at a time as instructed by your dentist. Within days of using the Perio Protect system, you will notice reduced inflammation, swelling and bleeding gums. Bad breath is also eliminated.
Find out how you can end gum disease painlessly with Perio Protect. Call (864) 322-5051 now or click here to request an appointment with your dentist in Greenville, SC.